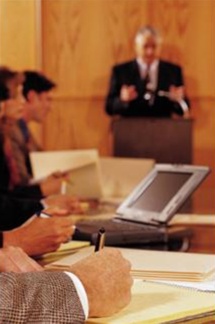 Your presenter, Stefan V. Salmonson, President, PROtective Services, Inc. is a licensed deputy sheriff/tactical trainer, licensed private detective, international security consultant, experienced tactical specialist, contract government investigator (with security clearance), airline transport pilot and professional speaker.
PROS provides discreet investigations, high-risk employment termination support services, security presentations, training, keynote presentations, security assessments, consulting and risk management recommendations for several hundred clients.
Stefan has written security related articles for publications and has been interviewed by journalists regarding security concerns. Clients include national/international corporations, government agencies, foreign royalty, public utilities, school districts/student transportation, flight department/associations, prisons, hospitals, financial institutions, media, the trucking, real estate, construction and insurance industry.
Presentations/Training available from PROtective Services, Inc. –
These fast paced, audience interactive presentations (Keynote and break out sessions) have won rave reviews from thousands of participants. (Private and Public Sector Training)
Actions Vs. Reactions – School/Campus Security *          (SEE ALSO: The ABC's of School Security)
This popular, fast paced, audience interactive presentation deals with the identification, avoidance, reduction and mitigation of many security issues facing school management, educators, school boards, educational associations, law enforcement liaison officers, reception staff/greeters and student transportation managers. Topics include (cyber) bullying identification/management, social networking risks, sexual predator methods of operation, gangs, narcotics, unwanted persons and property/structure security assessments.
"Active Shooter" – Preparing For The Unthinkable,  PART 1        (SEE ALSO: Worked To Death)
Schools, corporations, restaurants, theaters and houses of worship have all become killing fields. A "shooter" may strike at any time. Now, more than ever, preparation is of paramount importance. This presentation is available in several configurations ranging from basic survival options to due diligence considerations for risk managers and corporate executives. Proven preparations, recommendations and survival protocol documents will also be offered that may significantly reduce your risk. Response to a critical incident must be the result of training, practice and the empowerment to act.
"Active Shooter" – Responding To The Unthinkable, PART 2     (NOTE: Part 1 is a prerequisite.)
"Active Shooter" events continue, often daily. Now, more than ever, training and preparation are paramount to survival. This PART 2 presentation briefly reviews the basic concepts/observations covered in PART 1; however, it expands with the recognition of the suspect's prepatory acts (suspicious indicators), motives, intent, possible link to anniversaries dates, HUMINT (Human Intelligence), defining immanent danger, de-escalation methods, benefits of security/risk assessments, survival options and (due diligence) considerations for employees, supervisors, managers and executives. Integration, with expanded law enforcement protocols, will also be discussed.
A Day In The Life Of An Identity Thief – Phishing, skimming, on-line fraud and so much more!
One in twenty three US citizens will become the victim of ID (and related) theft.  The crime occurs every three   seconds … or less! Phishing, skimming, electronic fraud and organized crime rings are only a few of the crimes being committed. Learn how these crimes are perpetrated, how to detect them and proven methods of recovery/repair. NOTE: This class has been attended by thousands of corporate managers, financial/wealth advisors, insurance agents, risk managers, state wide and national association members.
Arrive Alive – Travel Security        (NOTE: International pre-departure security training is also available)
This presentation covers a wide range of travel related security issues. Topics include road rage avoidance, hotel/motel risks factors, car jacking, "Ninja Rocks", accident/crashes, "Swoop and Squat", common shopping and travel scams, elevator, robbery survival, rental car, taxi and bus security considerations.
Avoiding Icebergs – Avoiding/De-escalating Confrontations *
"The victim of assault is often untrained and unprepared to evaluate escalating behavior. They should know and practice methods of defusing hostility or protecting themselves from violence." The statement from OSHA is very clear. We need to recognize potentially dangerous situations, act upon our observations and appropriately report/document out actions. This presentation includes non-confrontational stances, proven methods of de-escalation, bomb threats/response, incident reporting protocols, "active shooter", high risk employment termination retaliation dangers and workplace violence reduction considerations.
BANKING SECURITY – Mandatory Annual Compliance SECURITY Training (Part 326)
Annual compliance training is mandatory and the topics(s) are established; however, the quality, effectiveness and current methods recommended may be vague and out of date. Does your annual training challenge your Security Officer and staff to improve their methods of operation(s)? Does it include security recommendations for them en route to, from and arriving at the bank? Do you have current electronic protocols to protect the PII (Personal Identifiable Information) of your clients? Have you adopted "Active Shooter/Armed Intruder" survival protocols and crime reduction recommendations for your large business depositors and armored car services? Why not?
"BULLYING" – The word alone can bring back unpleasant memories, and for some, nightmares from their youth. Those negative experiences may still be affecting us today. This dramatic presentation will examine the source(s) and target(s) of physical/emotional bullying and the current adaptation(s) to victims ranging from sexual orientation, religion, "sexting" to cyber/virtual bullying. The tragic results may be the same. The presentation includes candid conversation, examples, observations, statistics and audience interaction(s) regarding the recognition, avoidance, reduction, mitigation, reporting and practical options/defenses to providing safer schools, communities, workplaces and homes. Workplace Violence correlations are examined. Recognized model policies/resources are included.
C.O.P.S. And Robbery – Bank Security, Convenience stores, Persons interacting with the public
Financial institutions, their State-wide and national associations have come to rely on this effective CEU approved training program. Homicide is the leading cause of occupational death for women in the workforce today. It is the second most common cause for men. In most cases, the reason for the death is robbery related crimes. What is the definition of robbery? Why is there such a high probability for great bodily harm or death? How can you prepare for this potentially deadly encounter?  These and other important questions are addressed in this no-nonsense class.
Emergency/Disaster Preparedness – This overview program will assist you with the four (4) steps of the planning process, establish team(s), assess risk/hazards, developing and implementing plans. Statistics on Domestic Terrorism, computer security, targeting, significant dates, specific threats and probabilities are also discussed. This is an excellent program to begin or focus your security efforts.
"Goin' Home – ALIVE" – This high quality presentation reflects a "day in the life" of a person with a specific occupation and their interaction with various safety/security events throughout the day. From leaving home in the morning to "goin' home" at night, multiple scenarios are observed; dangers identified, avoided, reduced and/or mitigated successfully. This program is extremely popular with the utility industry. The realistic photos/videos and emotional response, to actual events, is thought provoking, challenging and empowering for the participants.  What's your level of safety/security awareness? What if you're wrong? Will you be "Goin' home"?
Healthcare Security – Protecting patients, managers, staff and the facility
Healthcare providers today face unique challenges. They must provide exceptional cost effective services for patients in both metro and rural settings. The facility and medical data must be secure. Emergency rooms, pharmacies and nurseries pose increased risks. The staff must be familiar with de-escalating confrontations, trained to identifying suspicious behavior and empowered to act. Managers must have a basic understand of site security, crisis management, effective training, the incident command structure and how to implement approved security related policies/procedures. Are your staff members empowered to take action? Are your policies/procedures current and implementable? This presentation is focused on managing risks/threats unique to healthcare providers, staff, managers, visitors and the security of their structure(s).
High Risk Operations – Mitigating the Risk
This practical program has been eagerly received by firms required to complete operations which are inherently or may become dangerous. Meter readers, disconnect/reconnect personnel, security officers, front desk personnel, managers and HR professionals appreciate the straight forward information regarding risk assessment, cover/concealment, confrontation protocols and crisis communications.
High Risk (Employment) Termination Recommendations/Training
This program was requested by Human Resource Professionals who observed the tactics, techniques and documents used by our teams, during the implementation of our High Risk Employment Termination support service. Role playing combined with proven procedures may significantly reduce the probability of immediate and/or retaliatory actions by a former employee. (SEE ALSO: Services)
H.O.W.S. – House Of Worship Security (NOTE: Topics and content adjusted to time allotted)
Houses of faith and worship should be refuges from the dangers of the world. Unfortunately, those dangers may now be present both in the church and on your campus. This presentation provides information on "hardening" the structure and yet maintaining the sanctity of the facility. Other topics include:
Methods of minimizing child abductions (To include non-custodial parents)
Quality background checks for members assigned to positions within the organization
Recommended responses to active shooter/armed intruders
Security assessment templates and Risk Management considerations
ERP (Emergency Response Plan) topic and content recommendations
Training, assigned locations and schedules for "Security Team" members
Cost effective security resources
Weddings and special event risks
Cameras, DVR, covert video and processing (potential) evidence
Incident Response To A Terrorist Bombing  (DHS/WMD Approved Training)
This presentation introduces the participants to the world of energetic materials (explosives) and the persons who manufacture and/or position them. Topics include identifying potential targets within a community, military and commercial explosives characteristics, initiation (detonator) systems, improvised explosives (IED), air and ground blast pathology, evidence gathering, incident scene operations, blast effects on structures and suicide bombings.
ATF bomb response protocols are included. Have you experienced a bomb threat? How did you respond?
Killing Kitchens – Clandestine Drug Labs (Includes physiological indicators)
This program provides participants with an extremely explicit view of methamphetamine, meth history and the immediate addiction. Clandestine lab operations, recipes, narcotic comparisons, gangs, improvised explosive devices (IED), related "cook" dangers and confrontation survival are also discussed. This program generates rave reviews from fire fighters, law enforcement, EMS, corporate managers and human resource professionals.
"Knock Knock" – The Dangers of Vacant/Foreclosed Properties
Real estate and insurance agents, utility employees, appraisers, law enforcement, fire, EMS personnel and the general public may all be at risk when these properties are located in your community. The housing and financial disaster left many properties vacant, but not for long. Between the new owners/occupants of shady "buy it now" offers, squatters, criminals avoiding arrest/prosecution to clandestine drug labs, there are many potential safety/security concerns to consider. This presentation is filled with situational awareness information and tips that may significantly reduce your potential for confrontations, assaults and/or injury.
Love You To Death – Domestic abuse survival, options, documentation, OFP/RO and plans
Domestic abuse remains a significant crime. This presentation will provide you with many insights into the dangers, prevention and tools for survival. All scenarios are based on actual cases.
Managing Risk – Avoiding, Reducing and Mitigating
Risk is inevitable. How much risk is acceptable? This presentation examines risk from a business, personal, school, travel, driving, theft, homicide and sexual assault perspective. Our "Top 10 List" of security considerations is also included. The insurance industry has given this presentation high marks. NOW ALSO AVAILABLE: "Risk Management For The Utility Industry"
NIMS – National Incident Management System
Understanding how the National Incident Management System is structured and operates is the primary goal of this presentation.  Learning related terms (C-FLOP) and reacting to scenarios will require inter-department communications to solve natural, medical, industrial and terrorist events. A must for all public and private sector first responders.
Pre-Departure Briefings – Travel Safety/Security
Pre-departure briefings are a must for all personal and business travel. What reliable resources are    available? How should the document be formatted? What information is pertinent and how current is the INTEL? What if there are injuries or illnesses? Are there proven international transportation services?  This presentation will provide proven resources to you and/or your safety/security team that may prevent you from going into harms way … and/or be safely evacuated.
Prevention and Response to Suicide Bombing Incidents – (DHS/WMD Approved Training)
This DHS approved course is designed to provide the participants with a basic understanding of explosives characteristics, suicide bombing devices, threat/vulnerability assessments, pre/imminent attack countermeasures and post-blast issues and responses.
Protecting People, Places and Passwords  – Physical security of electronic equipment, systems and personnel
Information technology, information security, SmartGrids, cable routing, switches and SCADA are just a few of the terms and critical infrastructure for business operations and/or continuity planning in the 21st century. Physical security considerations are now, more than ever, applicable regarding these "target rich" areas. This presentation will provide you with the tools to assess and (potentially) reduce your vulnerability.
Protecting The System –  Court/Legal profession security
A Federal survey indicated that 94% of Federal courthouses did not meet minimum security standards. State and local courthouses, together with the associated judge(s), support staff(s), attorneys and their client(s) may also be at risk. The courtroom is often referred to as a "melting pot where litigants are brought together to resolve disputes."
This presentation may assist participants in identifying potential weaknesses in their perimeter security, metal detection options (fixed and portable), security awareness, policies/protocols, inter-agency mutual aid agreements, narcotics/gang awareness, active shooter response, prisoner transport, medical emergencies and their overall response to critical events.
"Secrets" –  Sexual predator/pedophile awareness/avoidance
Why is the word "secrets" so relevant to sexual predator investigations? What are the basic types of predators? Are their methods of approach the same or do they vary? What warning signs should you, your children and your staff be aware of? These and other important questions will be addressed in this entry level sexual predator presentation. You may learn important lessons from nationally publicized cases and the first hand law enforcement experiences of the presenter. (NOTE: Social networking security concerns are also addressed.)
Security Awareness – 101 – General Awareness Training
"Wow!", "Great!", "Everyone could use this!" are typical reactions to this popular program. Topics include identifying and reducing security risks, reactions during duress, evidence gathering/documentation, effective signage, interagency reporting, the ABC's of security, three (3) layers of security, robbery survival, response to angry, shouting and armed co-workers/clients, explosives recognition, security equipment (cameras), Emergency Response Procedures (ERP) and policy/protocols. Experiencing this program is a must!
Sovereign Citizen Movements – Overview
With an estimated 300,000+ Americans now claiming "sovereign citizen" status and more considering joining the movement, the potential for violence and/or "paper terrorism" is on the rise. This presentation provides information on the "movements" history, beliefs, "common law" status, sovereign vs. federal citizens, redemption, methods of operation, identifiers, use as a defense, tactics, false documentation, TDC, "straw" vs. "flesh and blood" man,  recruitment and documented violence.  Identification, documentation and awareness are keys to dealing with this potential danger.
Selling Hatred – Extremist Movements
The constitution, immigration and religion are just a few of the topics that are used as a "rallying flag" for extremists. The results, of their extreme positions, may be fatal. This presentation examines the history of their fervor, known methods of operation and campaigns of misinformation. Reviewing standardized mailings, legal maneuvers, vehicles, property and land indicators may significantly reduce the participant's risk potential.
The ABC's of School/Student Transportation/Campus Security         (SEE ALSO: Action Vs. Reactions)
This dynamic presentation examines the history and escalation of school violence. Lessons learned in Russian schools and from campus crime scenes across America will be examined and recommendations applied.
Integration with other agencies, IED/Explosives, current methods of school security "lock downs", law enforcement considerations regarding student movements, sniper tactics, anniversary dates, "active shooter" survival, emergency staff/student notification and evacuations are just a few of the topics covered. Student transportation and bus security are also discussed.
The First Line Of Defense – Front Desk Security *
Employees, stationed at the front desk, are usually first to "see" trouble coming. They should be part of your security team, trained to be aware and empowered to take action. How will they react to a violent confrontation? To whom should they report their concern? How should they respond?  What security equipment should they control? Is your staff prepared to answer these questions?
The Perfect Marriage – Gangs and Drugs
The title says it all. Participants will learn five (5) typical indicators of gang members. The gangs will be broken down into several different organized groups. Their three (3) levels of involvement will be discussed. You will learn about the three (3) R's, the definition of "blessed in", "beat in" or "sexed in", names of the most common types of narcotics, their physiological indicators and the gang connections. Recognize the (possible) presence of gangs/organized crime and their impact on you and your community.
Taking The "Terror" Out Of  TODAYS "Terrorism" – Proven, cost effective methods to reduce your risk(s)
Past and present terrorist events are the basis for this presentation. The terrorist mindset, methods of operation
and target selection will provide the basis for our "hardening" efforts. IED's (improvised explosive devices), surveillance, risk analysis and mitigation are reviewed. A practical, empowering program for both the public
and private sector.
Under The Influence – Drug and Alcohol Abuse
This fast paced, audience interactive presentation examines the physiological and psychological effects of central         nervous system (CNS) stimulants, depressants and hallucinogenic chemicals. Participants will be provided with the tools necessary to assist them in "reading" the physical indicators, "dope hides", paraphernalia, youth trends, drug testing, "whizzinators", gestures and typical verbiage of acute and chronic chemical abusers. The potential for collateral damage to others, as a result of the abusers actions, will also be discussed along with drug testing (If applicable) requirements. This program is a "must see" for managers/supervisors and may be approved for mandatory supervisor drug/alcohol awareness training requirements.
Worked To Death – The Workplace Violence Phenomenon *
This information packed class is offered weekly to appreciative clients. The content is practical; the recommendations are useful and support equipment cost effective. Risk factors, prevention measures, emergency responses, actor profiles, warning signs, verbal and non-verbal risk factors, victim protection methods, "active shooter" survival recommendations and Crisis/Incident Management (CIM) are primary topics.
Why A Security Assessment? – Scope, Documentation, Recommendations
ISO or insurance requirements? What topics/areas should be reviewed?  How best to document the process. What are the deliverables? Are there recognized standards? These questions and many others will be answered in this security assessment/survey overview by a security professional who has provided them to the private, corporate and government sectors for over twenty (20) years.

NOTE: Presentations are customized to "fit" the individual client's needs. Many titles can be combined to provide additional information on related topics and/or reflect the relationship between security concerns. Application for CEU's may be requested.